Trips & Pricing
Trips & Pricing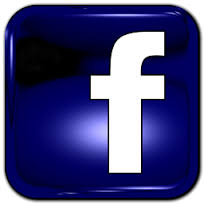 Please check our daily Facebook post for our operating status including trip cut off times, equipment options, age minimums, and any other restrictions due to river and weather conditions. You do not need a Facebook account to view our page … just click on the Facebook icon. Equipment is all first come, first serve. We do not take reservations. The trip times listed below are based on averages and vary based on the flow of the river. Please carpool if coming with a large group. 
Canoe Trips
4 Miles (1 to 2 Hours) ………. $35.00 for 2 People ………. Add a 3rd Person $17.50
10 Miles (3 to 4 Hours) …….. $47.00 for 2 People ………. Add a 3rd Person $23.50
Children 12 or younger are FREE when riding with 2 adults.  Children 12 and younger must be accompanied by an adult.  Total weight of people and equipment (coolers, fishing tackle, etc.) must not exceed the maximum capacity of our 15′ Grumman Double-Ender canoes which is 550 pounds.  We reserve the right to reduce the maximum capacity based on the river depth.
Kayak Trips

4 Miles (1 to 2 Hours) ………………….. $32.00
10 Miles (2.5 to 4 Hours) ……………… $42.00
Total weight of kayaker and equipment (coolers, fishing tackle, etc.) must not exceed the maximum capacity of our Paluski kayaks which is 300 pounds. The kayak length is 9 feet 8 inches with a cockpit size of 48 inches x 18.5 inches. All of our kayaks are single person, sit in vessels.  We reserve the right to adjust maximum capacity to less based on the river depth.
Inner Tube Trips 
2.5 Miles (2.5 to 3 Hours) ………… Single Tube $15.00
4 Miles (4 to 5 Hours) ……………… Single Tube $20.00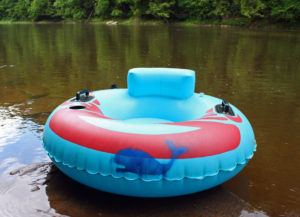 There is no weight capacity listed on tubes, so your comfort is what is essential. The single tubes are 42 inches in diameter.  
We no longer rent double tubes. You may bring rope or buy rope at the Pale Whale ($3) to tie your inner tubes together especially if you have children. 
River Raft Trip 
4 Miles (2.5 to 3.5 Hours) …………. $150.00
We have a 6 person limit on river rafts.  The river depth must be  2.5 feet or greater to take a 4 mile river raft trip, so be sure to check our daily Facebook post to see if the river raft is being offered before you travel.  There are no discounts on the river raft.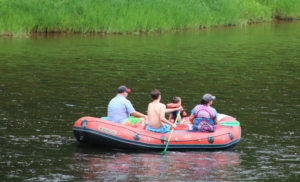 Trip names are general terms used locally and not a precise measurement. Trip time is based river condition includes factors such as how quickly the current is moving, wind speed & direction, paddling effort, etc. 
Transporting your own equipment …
Do you have your own equipment, need a place to park, and require transportation to the launch site?  We will transport you and your equipment for 1/2 price.  We reserve the right to see your equipment before quoting a price for transport and/or not transport your equipment due to size limitations such as for rafts exceeding a 2-person capacity.  We do not transport tubes that have heads, wings, legs, (novelty items) or pool tubes/rafts and equipment etc.  The price for transporting a double tube is half price of renting two of our single tubes. The price of transporting a double kayak is considered to be the same as transporting a 2-person canoe.  Transports are considered a discounted price – only one discount is valid per purchase. No trailers (or other extended vehicles) allowed on weekends due to parking limitations!
If you are renting equipment from us AND transporting your own, then your personal equipment must use the public docks just down river from our private dock. The Pale Whale is located on private property and is for use of those guests renting from us. This does not mean that if you rent some equipment from us, that you can use our dock for all your personal equipment that we did not transport. You can only use our dock for private equipment only if you have us transport it. You can check out the Cook Forest State Park public and private property lines throughout the forest by clicking here on map. Please do not intrude on private property.
Remember, we cannot provide a taxi service, you must rent equipment for us to transport you on a van – no exceptions. Please plan appropriately if you are bringing your own equipment to the river.
Dogs are welcome if your dog can ride safely with other people and dogs while being transported to the launch site.  The pet fee is $5.00 per dog. 
Prices are subject to change without notice.