Frequently Asked Questions
Frequently Asked Questions
For your convenience, our most common customer questions are answered right here or contact us at 800-680-0160.  Like and follow us on Facebook for information updates! Remember, alcohol is prohibited in Cook Forest State Park which includes this portion of the Clarion River.
Q:  What are your hours?
A:  We are open 7 days a week starting in May through September if conditions permit.  Hours and trip offerings are posted daily on our Facebook page.  Please check our page or give us a call before you travel since conditions change constantly. Each type of trip (canoe, kayak, tube, raft) has a different end time each day so PLEASE check our daily Facebook page. You do not need a Facebook account to view our page.
Q:  How do I know if there are any river restrictions in place?
A:  Due to ever changing river and weather conditions, please see our Facebook page for any restrictions in place or call us at 800-680-0160.  If the Clarion River depth is 6 feet or greater at where the USGS measures it at the Cooksburg bridge, we are not permitted to rent equipment.  Low, high, and or rough river conditions may require a higher age limit for children and/or limiting the number of persons to a canoe to 2.  We reserve the right to make that determination. Tube rentals are not available during spring until the river temperature warms. We report the USGS height measurements in "feet" and the flow, which is the volume (height and velocity at the USGS gauge), in cubic feet per second. Water temperatures are manually taken daily. Once the air and/or water temperature reaches 70 degrees, we do not report it on our daily Facebook post. 
Q:  How do your trips work?
A:  Guests arrive at our facility at 115 Riverside Drive, Cooksburg, PA 16217 along River Road. Once parked and ready to go (sunscreen, restrooms, changed, etc.), you come to the 'Canoe Shed' where you complete waiver forms and then sign up for the trip of your choice. We load you in a van, take you upstream with the equipment for the length of trip you chose, and then you paddle or float back to our facility where you are parked. Be ready to go when you sign up!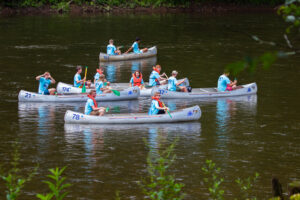 Q: How many people can ride in one canoe?
A: One canoe can hold 2 adults and 2 small children OR 3 adults as long as the weight of the guests and their equipment does not exceed 550 pounds and/or we do not have any additional restrictions in place such as for low water conditions. Please note, there are only two seats per canoe – additional people must sit on the floor. Yes, one person may take a canoe alone if they wish. We do not put five or more people in a canoe (regardless of size of the people).
Q:  How old do you have to be to go on a trip?
A:  The minimum age is 2 years old unless there are other restrictions in place due to river conditions.  All children ages 2 – 15 must be accompanied by an adult at all times. All children, 17 years old or younger, must have a parent or guardian complete a minor release form.  Guests age 18 or older must complete an adult release form.  We must have a paper copy that is signed. Please do not send a digital copy on a phone or by email. Low, high, and or rough river conditions may require a higher age limit for children – please check our Facebook page for any restrictions. 
Q:  Do you offer any discounts?
A:  All guests of Cook Riverside Cabins, Fair Winds in the Forest Cabins & Lodge, and Whispering Oaks Cabins receive a discount on canoe, kayak, and tube rentals during their stay by showing their cabin key (transports and river rafts are excluded) when signing up. Please note that refunds will not be issued if the guest does not ask for the discount at the time of purchase. We offer discounts for church, scout, and school organizations/groups – you must call in advance to receive the discount. Please call for more information. Proof of the affiliation with the group must be provided.  U.S. Active Duty Military receive a discounted price when they present a valid military identification card.  Only one discount is valid per purchase. There are no discounts on equipment transports or river rafts. 
Q:  What is included in the cost of my trip?
A:  The price of your trips includes parking, personal flotation devices (PFD) for each person using our equipment, paddles (2 per canoe), and transportation to the embarkation point.  Our crew takes care of the loading and unloading of all equipment to make your float as enjoyable as possible. We have restrooms, changing rooms, and a foot wash for your convenience. 
Q:  Am I required to wear a Personal Flotation Device (PFD)?
A:  In accordance with Pennsylvania State Law, all persons underway in a boat must have a PFD on board and accessible; persons age 12 or younger must wear their PFD at all times.  Persons older than age 12 are welcome to wear a PFD on tubes, but it is not required.  All persons, regardless of age, must wear a PFD from November 1st through April 30th.  We encourage all guests to wear their PFD for their safety. You may use your own PFD as long as it U.S. Coast Guard approved in accordance with Pennsylvania State Law. PFDs are provided for guests as part of their rental of our equipment for no additional charge. If you are having us transport your own equipment (please see details under transports), then you must provide your own PFDs and paddles. Citations issued by law enforcement to guests for failing to follow Pennsylvania State Law is the sole responsibility of the guest.
Q: Do I need a reservation?
A: No, we take you on your trip as you arrive and our next van becomes available. We do not take reservations. Though not required, please call ahead to make arrangements for large group trips of more than 28 guests. All equipment is first come, first serve. Be prepared to wait for equipment especially on busy summer weekends. 
Q: Do I need to arrive at a certain time to be able to go on a trip?
A: Yes! After we open in the morning, generally we run trips all day UNTIL the times we post each day. PLEASE check our daily Facebook post for what equipment and trips we are offering each day!!   You do not need a Facebook account to view our daily post. You may also call us at 800-680-0160.  It is wise to arrive early to avoid missing the trip you want due to long lines especially on weekends. If you are not signed up and ready to go by the cut off times posted each day, we cannot take you. We run trips all day so please be early rather than wait until the cut off time to avoid disappointment.
All equipment must be returned by 6:00 pm unless we are running on a modified schedule. Again, trips may vary based on river conditions and season so check our daily Facebook post for availability and times.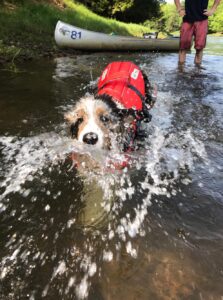 Q: Can I bring my dog?
A: Yes, you may bring your dog if your dog can ride safely without upset with other people and other dogs while being transported to the launch site.  The pet fee is $5.00 per dog regardless of size. You must report that you are taking a dog when you sign up. We do not have PFDs for dogs, you must bring your own if you wish for your pet to wear one.
Q: Will you transport me and my canoe, kayak, paddleboard or tube?
A: We will transport you and your equipment for 1/2 price which includes parking and use of our dock based on the trips we are running each day. Again, please check our daily Facebook post for a list of trips offered each day and cutoff times.
Please DO NOT bring trailers on weekends or holidays – you will not have parking available.  We reserve the right to see your equipment before quoting a price for transport and/or not transport your equipment due to size limitations such as for rafts exceeding a 2-person capacity. The price for transporting a double tube is half price of renting two of our single tubes.  The price of transporting a double kayak is considered to be the same as transporting a 2-person canoe.  Transports are considered a discounted price – only one discount is valid per purchase. We do not transport tubes that have appendages such as heads, legs, tails, wings (novelty tubes), or pool tubes. We do not transport "boats" other than canoes, kayaks, or paddleboards. You assume responsibility for your own personal tube if deflates in route to or on the river.
If you transport with us and forget your PFD and/or paddles, as our guest you may rent them for an additional cost of $5 per piece of equipment. We do not rent canoe or kayak paddles for tubes. We do not rent equipment to guests who are not transporting with us. We do not inflate tubes that we are not transporting.
All equipment we transport must meet PA Fish & Boat Commission regulations and/or PA State Park regulations which means canoes, kayaks, and paddleboards must have a state registration or launch permit as well as required safety equipment (PFDs, sound producing devices, etc.) which includes paddleboards. Permits are available at the Cook Forest State Park Office.  The Pale Whale Canoe Fleet dock in Cooksburg and Clarington are both private property and are for use of our guests only. Trespassing is prohibited and violators will be towed. Please do not park at our facility if you are not renting with us – you may be towed as it is private property.
Q: Will you transport me without equipment?
A: Unfortunately, no … we are not permitted to shuttle people without equipment – you must either rent equipment from us or have your own canoe, kayak, or tube for transport in order for us to take you up river. Please do not park at our facility if you are not renting with us – you may be towed as it is private property. Please plan appropriately to shuttle yourself if you are not having us transport you and your equipment. Please do not use our dock for equipment we did not rent or transport for you.  We are located on private property. If you are renting equipment from us AND transporting your own, then your personal equipment must use the public docks which are currently located in the Henry's Run Day Use Area upriver from us. The Cooksburg Canoe Launch public dock is currently closed due to construction by the PA DCNR – please plan accordingly. Cook Forest State Park, Clear Creek State Park, and the Allegheny National Forest have many public launch sites as well as parking available to those who wish to transport their own equipment. You can stop by the Cook Forest Park Office  in Cooksburg to pick up maps of both Cook Forest and/or Clear Creek or check out their downloadable maps online at http://www.dcnr.state.pa.us/stateparks/index.aspx then choose "Find a Park".
Q: What location should I use to look up the weather for Cook Forest?
A: We are located in Cooksburg, Pennsylvania 16217, but our trips extend upriver from Clarington down to Cooksburg.  If it starts to lightning while you are on the river, you get to land per the PA Boating Handbook. In the case of the Clarion River, we ask that you come to the road side of the river so you can be assisted by our crew if necessary. When storms arise, we send vans up river to check on guests but please remember, it may take some time especially if the river is busy. Always review the forecast and radar before signing up for a trip. You have up to 30 minutes to decide whether you wish to wait out the weather or to end your trip by getting on a van. If it is after 5:30 p.m., your trip may be automatically ended since all equipment must be returned by 6 p.m.  Once you begin a trip, it is non-refundable. There are no rain checks.
Q: Can I rent Pale Whale equipment and take it on my personal vehicle?
A: No, we must transport our equipment. Transporting Pale Whale equipment on a personal vehicle is considered theft unless in the case of a good Samaritan assisting during an emergency returning the equipment to the Pale Whale. 
Q: What other things should I consider?
A: Come early on weekends and holidays to avoid long wait times and to make sure you have parking.  Bring appropriate footwear to wear in the water as river rocks can be slippery and you cannot always see the bottom – if you need water shoes, you can purchase them at the Cooksburg Dry Goods store next to Pale Whale Canoe Fleet.  Bring plenty of non-alcoholic drinks, snacks/picnic baskets, sunscreen, hats, sunglasses, trash bags, waterproof containers/dry bags, rope to secure your containers/bags,  fishing equipment, as well as extra clothes in case you get wet. We no longer rent floating coolers. Always keep your car keys in a safe place – we will hold your keys until you return if you chose! Put a lanyard or something familiar on your keys to make it easier to find them in our bin.  Stop by the Cooksburg Cafe for Hershey's hand-dipped ice cream, burgers, and fresh cut fries after your float!
For Your Information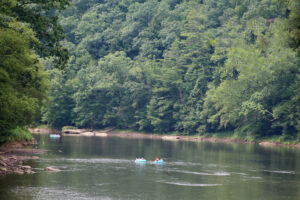 The Clarion River is a moderate-sized river with riffles and pools with trout, smallmouth bass, walleye, catfish, and various panfish. The river is classed as flat water to class 1 depending on conditions. The average depth for the adjacent 10 miles is 2 to 3 feet. The average gradient (foot/mile) is 6 feet. It is truly a family river for beginners canoeing Cook Forest.
51.7 miles of the Clarion River were designated part of the National Wild & Scenic River System on October 19, 1996 and was selected Pennsylvania's 'River of the Year' for 2019!
It is against the law to harass wildlife. Notify the park rangers if you see any littering or improper behavior on the river.  Always respect other enjoying the river including fishermen. Please notify us if you observe any willful destruction of canoe equipment.